Low Parks Museum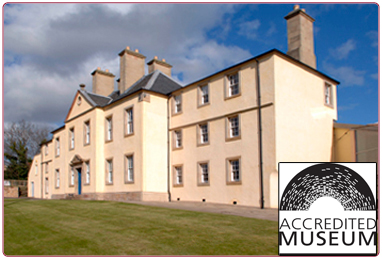 ---
Low Parks Museum in Hamilton is a 5-star museum under the Visit Scotland grading scheme, situated in the former Low Parks of the Duke of Hamilton's estates.
The museum complex is housed in two historic buildings of national importance, both originally associated with the Dukes of Hamilton.
The first of these buildings is Portland, built in 1696 as the private home of David Crawford, secretary and lawyer to the 3rd Duke and Duchess of Hamilton. The other historic building is the former Palace Riding School, built in 1837 by Alexander, 10th Duke of Hamilton.
These buildings provide an attractive and appropriate setting for a fascinating museum tracing the local history of South Lanarkshire, with displays relating to Hamilton Palace; early settlement; working life, including agriculture, weaving, and coalmining; and also the history of the local regiment, the Cameronians (Scottish Rifles).
Museum staff select objects to bring collections into local communities. See what the current selection is in our Curator's Choice.
With our Mezzanine cafe and activities for children throughout the galleries, there is plenty for everyone to see and do.
Download the What's On at Low Parks brochure to find out what is on offer at your local museum.