The Perfect Fit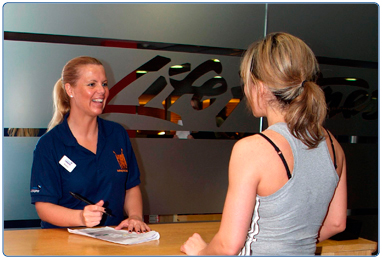 At South Lanarkshire Leisure and Culture we believe in providing the best customer experience in fitness. With that as our goal, we have designed the most comprehensive and flexible fitness journey in the industry. The Perfect Fit is a completely individualised, one to one consultation package that allows you to work with our qualified coaches to deliver the optimum level of service for you. With the Perfect Fit, your goals become far more achievable.
Gym Consultation
Our gym consultation is the initial meeting with our fitness coaches. This is where we discuss what you want to achieve from the gym, how we go about getting there and demonstrate a 'basic' program for you to work with. This session is all about you and your needs. We add the expertise, supply motivation and even try to break down some of those barriers you may have. Please bring your work out gear for this session as we'll get you sampling your work out.
Personalised Fitness Programme
We strongly encourage our customers to book in for this session. If you are new to exercise it's essential to make sure you're on the right track and the Personalised Fitness Program is where we can fine tune your basic program from the first visit. As you gain confidence we can add more things to your routine or suggest new approaches. Everything we do is tailored toward your own goals and preferences.
Continuing Your Journey – You Decide!
You are never alone when you choose to train in our gyms. We believe that your ongoing success is fundamental to your enjoyment and we want to offer you all the opportunities to achieve that success. Our fully serviced gym model allows you to make the most of our fitness knowledge and working together we know we can create a better fitness future for you.
We offer many varied services as well as continued 'one to one' sessions to keep on top of your gym routine. Making sure your exercises stay fresh and relevant to your improving fitness levels makes program updates all the more important. Your Instructor will get you booked in for any of the following you choose to do (all free of charge to members):
• Exercise Program Updates
• Continued Goal Setting
• Nutrition Consultation
• Health Consultation
• Weight Monitoring
• Functional Training session
• Free Weights
• Personal Training Taster session
• A free fitness class pass (bring a friend if you are a member)
• Flexibility/stretching session
Book your Perfect Fit online, alternatively contact your local leisure centre reception.