Bookbug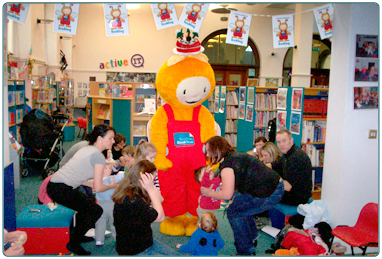 Bookbug is a national programme that encourages parents to enjoy books with their children from an early age. It aims to foster a love of books through story and song. You can watch our Bookbug video below.
It is never too early to start sharing a book with your child and children who are introduced early benefit educationally, culturally, socially and emotionally.
Your child is entitled to three free Bookbug packs at different ages:
Bookbug Baby packs are given to you by your health visitor at 6-16 weeks
Bookbug Toddler packs are given to you by your health visitor at your child's 12/13 month immunisation. Bookbug Pirate packs are given to three year olds when they start nursery. If your child has not received their pack, you can collect one at your local library.
How to Book
Select the Bookbug session your child wishes to attend from the table below.

Telephone the library to book a place. Alternatively, you can visit the library and book at Reception.
Bookbug sessions are open to children aged 0-3 years. The Bookbug Reading Challenge also runs for children 0-5 yrs throughout the school summer holidays.
See the Bookbug on SL Youtube.