Additional support needs play zones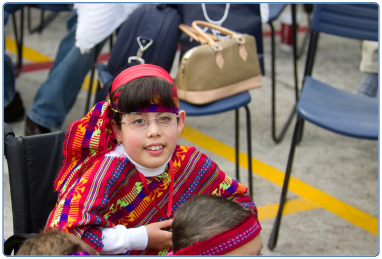 At our play clubs, we support children from many backgrounds with a wide range of abilities. The following is a list of just some of the diagnosed and undiagnosed additional needs that we support:
Autism Spectrum Disorder
Attention Deficit Disorder
Downs Syndrome
Learning Difficulties
Physical Impairments
Hearing Impairment
Sight Impairment
Speech and Language Impairment
Emotional Needs
We have to think very carefully about how we can support each child individually, to provide them with a fulfilling, positive experience. The following are factors that we have to consider regularly, and incorporate into the planning of a play club.
Activity stations are well clarified, to ensure the children are able to focus and move from one activity to another, as transition is often a problem.
Term time play zones for children with additional support needs run at Sanderson High School on Tuesdays from 6.00pm-8.00pm for children and young people aged 12+ and Wednesdays and Thursdays from 6.00pm to 8.00pm for children aged 5-12 years and attending Primary School.
For children with additional support needs, between the ages of five to twelve, referrals must be made directly to Play Development Services, Tel. 01698 476195/email kim.kilgannon@southlanarkshireleisure.co.uk.
Prior to a place being allocated, a play profile will be completed to gain information about the child and the level of support they require. Places are allocated by priority of need and suitability to the club.
We also have a Saturday play zone that is run in partnership with Social work resources, referrals for this have to made through your local social work department. East Kilbride Tel 01355 807050. Clydesdale Tel 01555 895192.
At present we have two play zones running. One in Sanderson High School, High Common Road, East Kilbride, G74 2LP, and one in Carluke Leisure Centre, 135 Carnwath Road, Carluke ML8 4EA.
Spring, Summer and October Week
We have provision in Hamilton, East Kilbride and Clydesdale. For children aged 5-12 years old and attending primary, with additional support needs. This runs during school holidays, weekday days provision, 10.00am to 3.00pm. Based in Leisure Centres with incorporated outside play .
Referrals must be made to Play Development Services, Tel 01698 476195.
Clubs and allocation of places are subject to staff availability.
Other helpful links can be found below
Play Scotland - www.playscotland.org
Enquire - www.enquire.org.uk
Scottish Social Services Council - www.sssc.uk.com
Care Inspectorate - www.careinspectorate.com
Share this page