ACE term two activities at Cathkin High School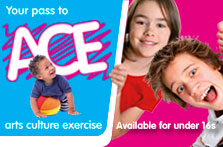 Following are ACE activities available at Cathkin High School during the school term.
Term 2 activities
Booking for Term 2 will be available from 10:00am on Monday 11 October. You can book your place online or call Eastfield Lifestyle on 0141 642 9500.
Tuesdays commencing 19 October
Trampoline
5-12yrs / P1-P7 (course) 6:15pm-7:15pm
5-12yrs / P1-P7 (course) 7:15pm-8:15pm
Fridays commencing 22 October
Trampoline
5-12yrs / P1-P7 (course) 6:15pm-7:15pm
5-12yrs / P1-P7 (course) 7:15pm-8:15pm
Share this page