ACE children's activities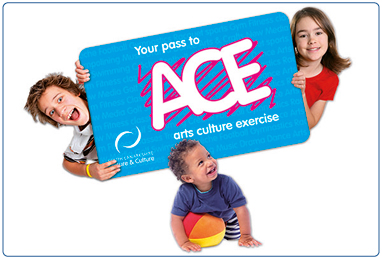 ACE / Tiny ACE
Does your child love being active? South Lanarkshire Leisure and Culture offers a wide range of activities for children, from tots to teens.
Tiny ACE is our extensive programme of sports, culture and libraries activities for children from birth to preschool. These activities will let your child explore and develop their creativity, speech, social and motor skills. Taking part in these sessions will encourage your child to develop an active mind and body.
ACE is our extensive fun-filled programme of Arts, Culture and Exercise activities for school aged children under 16 years. Activities range from sports, such as football, gymnastics and trampolining, to arts and crafts, music and drama. Also included are golf, swimming, racquet sports, and gym and fitness classes (12 years and above).
View the full programme in our ACE and Tiny ACE online timetable or you can also find out what is available in our pdf brochures:

online or contact your local leisure centre, cultural venue or library.
All of our classes can be accessed either on a pay-as-you-go basis or through membership of Tiny ACE or ACE.
Membership information
Our ACE/Tiny ACE membership will give your child unlimited participation to our activities* every week and allow them to try a fantastic range of activities that will keep them active, help development and meet new friends.
Tiny ACE membership for only £17.50 per month.**
ACE membership for only £26.50 per month.**
A concession of up to 50% is available to Leisure for All cardholders.
A 20% discount is offered for the siblings of one full paying child or for a child that is already a swimming lesson member.
To become a Tiny ACE member or an ACE member -

online or contact your local leisure centre, cultural venue or library.
* All classes up to 2 hours included
** All prices subject to increase April 2021