Activage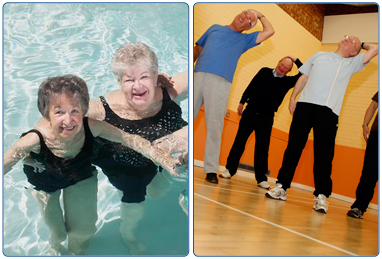 Activage is a membership specifically for South Lanarkshire residents who are over the age of 60. This membership allows Activage members access to all mainstream leisure services (gym, fitness classes, swimming, health suite, racquet sports and East Kilbride Ice Rink).
Download the South Lanarkshire Leisure and Culture Activage timetable.
In addition there are a number of bespoke services and classes which are specifically designed for people aged 50+.
Active Mondays: John Wright Sports Centre, Tel:01355 237731
Active Tuesdays: Blantyre Leisure Centre, Tel: 01698 727800; *Alistair McCoist Complex, Tel: 01355 265696
Active Wednesdays: Larkhall Leisure Centre, Tel: 01698 881742
Culture Wednesdays: John Wright Sports Centre, Tel: 01355 237731
Active Thursdays: Jock Stein Centre, Tel: 01698 828488; John Wright Sports Centre, Tel:01355 237731
Active Fridays: Carluke Leisure Centre, Tel: 01555 751384; Whitehill Neighbourhood Centre, Tel: 01698 477622
Active Saturdays: *Uddingston Sports Centre, Tel: 01698 805055
All Active Mornings give people the opportunity to take part in a variety of different sports and activities such as aerobics, badminton, table tennis, indoor curling, indoor bowls and pickle ball. We have qualified staff overseeing the sessions to ensure participants receive quality instruction in a fun and friendly environment.
*Alistair McCoist centre and Uddingston Sports Centre sessions are run by volunteers.
The cost of this membership for residents aged 60+ is £56.25 for the full year. This can be made as a one off payment or in two separate payments of £28.10 (once first payment is made customers have up to 3 months to make the second payment).
Active Mornings are also available as a pay-as-you-go option.
Additionally we offer Club Circuit and Club Movers classes - fun and friendly circuit based fitness classes which are lead by qualified health and fitness professionals with the knowledge and experience to adapt exercise and physical levels to suits your needs. These classes are run in partnership with NHS Lanarkshire.
For more information, please contact your local leisure centre, or alternatively contact Chris Murray, Programme Officer, on 01698 454106 or email: chris.murray@southlanarkshireleisure.co.uk
Walking Football
Designed to help older adults to maintain an active lifestyle as well as getting those back to playing football who had to stop due to injury. For more details contact Colin McKendrick, Development Officer, on 01698 476260 or email: Colin.mckendrick@southlanarkshireleisure.co.uk
Back to Netball
An adapted version of the well loved game provides a gentle introduction or re-introduction to the sport. People of all abilities over the age of 16 are encouraged to attend this 60 minute session of Netball FUN. For more details contact Mary Frances McNeill, Development Officer, on 0734 203 2548 or email: MaryFrances.McNeill@southlanarkshireleisure.co.uk
Walking Football and Back to Netball are available pay-as-you-go.
Are you retired, close to retirement or have some free time on your hands? Would you like to find out more on how to get the most out of your free and time?
Contact Seniors Together by email: SeniorsTogether@southlanarkshire.gov.uk or follow them on facebook @southlanarkshireSeniorsTogether
Being active has never been so easy and enjoyable. Active Communities can help you take part in or develop the right activity to help you achieve a healthier happier you!

There are eighteen health and fitness gyms throughout South Lanarkshire.