Have your say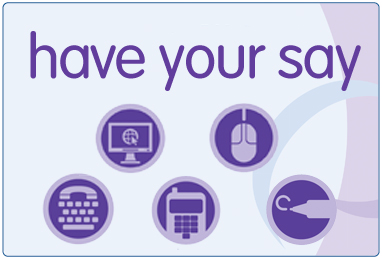 Comments and complaints procedure
We welcome comments, compliments and complaints on any of our services. Please contact us:
by emailing customer.services@
southlanarkshireleisure.co.uk
by filling in the feedback form.
in person at any SLLC facility, venue or library
by phoning 01698 476262 or any local facility, venue or library
Minicom 18001 01698 476202
in writing using the freepost card or sending a letter to
South Lanarkshire Leisure and Culture.
Floor 5,
Council Offices,
Almada Street,
Hamilton,
ML3 0BR
When complaining, tell us:
your full name and address
as much as you can about the complaint
what has gone wrong
how you want us to resolve the matter
Comments
We will respond to your comments within 10 working days. You can use the online feedback form.
Complaints
We take complaints about our services seriously and deal with them in confidence. We use the information from complaints to try to improve our services to prevent the same problems happening again.
What is a complaint and what is not a complaint?
There are some things we can't deal with through our complaints handling procedures. For more information please read our what is a complaint and what is not a complaint page.
How long do I have to make a complaint?
It is usually easier for us to resolve complaints if you make them quickly and directly to the service concerned.
Normally, you must make your complaint within six months but no longer than 12 months after the event itself.
In exceptional circumstances, we may be able to accept a complaint after this time limit. If you feel that the time limit should not apply to your complaint, please tell us why.
Have you been treated fairly?
If you feel you did not get the service, help or information you expected because of your age, gender, gender identity, race, disability, sexual orientation or religion/belief, please let us know.
Getting help to make your complaint
We understand that you may be unable, or reluctant to make a complaint yourself. Please read our page on getting help to make your complaint for help and advice.
Guide to our complaints procedure
You can make your complaint in person, by phone, by email, using our feedback form or in writing.We have a two-stage complaints procedure. We will always try to deal with your complaint quickly. But if it is clear that the matter will need a detailed investigation, we will tell you and keep you updated on our progress.
Stage 1: frontline resolution
We will always try to resolve your complaint quickly, within five working days if we can.
If you are dissatisfied with our response, you can ask us to consider your complaint again.
Stage 2: investigation
We will look at your complaint at this stage if you are dissatisfied with our first response. We may also look at your complaint immediately at this stage, if it is clear that it is complex or needs detailed investigation.
We will acknowledge your complaint within three working days. We will give you our decision as soon as possible. This will be after no more than 20 working days unless there is clearly a good reason for needing more time.
The Scottish Public Services Ombudsman (SPSO)
If, after receiving our final decision on your complaint, you remain dissatisfied with our decision on the way we handled your complaint, you can ask the SPSO to consider it.
We will tell you how to do this when we send you our final decision. For more information please go to our Scottish Public Services Ombudsman page.
The SPSO offers a range of fact sheets designed to give advice on some common topics of complaint that members of the public enquire about. They outline what the SPSO can and cannot do about a specific complaint and provide details of other organisations that might be able to offer help or support to customers.
Scottish Public Services Ombudsman
Address:
Freepost SPSO
Phone: 0800 377 7330
Fax: 0800 377 7331
Email: ask@spso.gov.scot
Share this page