Corporate Wellness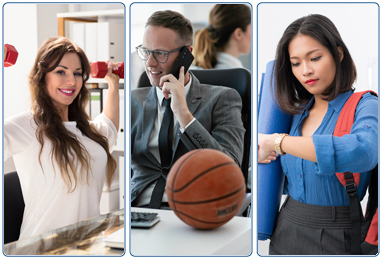 Are you responsible for a team of employees? We are committed to employee's physical wellbeing and fitness. We can help your team to be healthier and your business to perform better.
Employees are the most important part of any business and having happy and motivated staff is crucial to the success of any company. A healthier workforce means a happier workforce!
South Lanarkshire Leisure and Culture has a network of leisure centres and fitness suites throughout the area. Many of these centres have swimming pools, health suites and fitness studios providing first class equipment and facilities. We also provide an extensive range of classes including body pump, spin fit, yoga, body balance, aerobics, and dance to name a few. A great selection suitable for beginners and those looking for a full workout. View our fitness class programme.
Our Health and Fitness membership
Available for only £25 per month (student and concession rate at £18.75 per month) or, for only £45 per month, two adults can join as a couple. It is much better working out with someone, and cheaper too.
This 'all-inclusive' membership allows your employees to access:
• Unlimited use of gyms, pools, racquet sports and health suites
• The Perfect Fit where we personalise fitness journeys to suit your employees individual goals.
• Unlimited free access to our highly qualified staff for advice and assistance
• Access to our full range of fitness classes (indoor and outdoor)
Bespoke Services
We can work closely with you to provide a service that suits you and your employee's needs.
• Workplace visits by our health and fitness team to offer expert advice and guidance.
• Workplace "taster" fitness classes to allow your team to sample what we have on offer in our studios.
• Fitness tests, health checks, nutritional advice, and weight management programs.
• Team building days – rather than us come to you, why not spend a few hours in one of our leisure centres and enjoy some activities as part of a team building or training day.
We can also help support your wellness plan with professional marketing materials to display around your workplace or digitally on your websites, e-letters or social media platforms.
For more information on how we can help your business please complete our Corporate Wellness form and a member of the team will be in touch.
SLC / SLLC employee discount
Do you work for South Lanarkshire Council or South Lanarkshire Leisure and Culture? We offer an employee discount on our fitness single membership at only £21.40 per month. To find out more email us at sllcenquiries@southlanarkshireleisure.co.uk and we will be in touch or you can join online.
Share this page
South Lanarkshire Leisure and Culture offers a range of great value memberships allowing you to pay monthly by direct debit.