Displays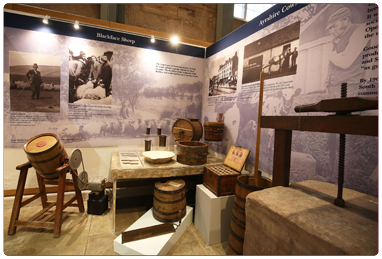 ---
Hamilton Palace:
One of the nation's lost treasures, it was the home of the Hamilton family and was the largest non-royal residence in Britain. Sadly, as a result of mining subsidence, it was demolished in the 1920s. Trace its fascinating history and that of the surviving buildings, including those which make up Low Parks Museum - Portland House, the Palace Riding School - and Hamilton Mausoleum.
Early settlements to Royal Burghs:
A journey through time from our oldest exhibit, a bronze age burial, to traces of Roman occupation and the formation of South Lanarkshire's Royal Burgh's, featuring one of the oldest sporting trophies, the Lanark Silver Bell.
Working Life:
Prior to the Industrial Revolution, agriculture and dairy was a major industry. South Lanarkshire's best-known symbol was the Clydesdale horse. Weaving changed the face of Lanarkshire - there were hand looms in every cottage in every town and village. An original loom can be seen, and we tell the story of Hamilton's unusual lacemaking industry.
Mining:
Coalmining began as small-scale, most deep deposits were only exploited after the technological developments of the later 1800s. There was a mining boom, and by 1874, there were dozens of collieries. Our displays are a reminder of that history, and feature Scotland's worst mining disaster at Blantyre Pit in 1877, when 207 miners died.
The Cameronians (Scottish Rifles):
This gallery tells the story of the Lanarkshire regiment, raised in Douglas in 1689. Its initial recruits were Covenanters, making it the only British Army regiment with a religious origin. As Scotland's only rifle regiment, it disbanded in 1968 rather than merge and lose its unique identity.