Displays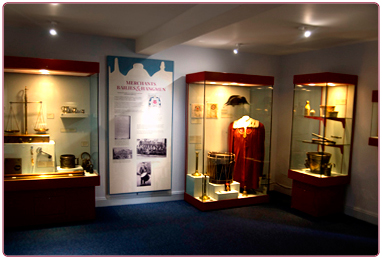 ---
Hamilton Palace:
One of the nation's lost treasures. The Palace was the home of the Hamilton family and was the largest non-royal residence in Britain. Sadly, as a result of mining subsidence, it was demolished in the 1920s. Trace its fascinating history and that of the surviving buildings, including those which make up Low Parks Museum - Portland, the Palace Riding School - and Hamilton Mausoleum.
Working Life:
Prior to the Industrial Revolution, agriculture was the main occupation and the display features South Lanarkshire's best-known symbol - the Clydesdale horse. The weaving industry changed the face of Lanarkshire, and there were weavers' looms in every cottage in the towns and villages. One of the original looms can be seen in our Textile Gallery, which also tells the story of Hamilton's unusual lacemaking industry.
Mining:
Coalmining began as a small-scale industry. Most of the coal deposits were very deep and only exploited after the technological developments of the later 1800s. Then there was a mining boom, and, by 1874, there were 22 collieries in Hamilton parish alone. Our coalmining display is a reminder of that history, and features the Blantyre Pit disaster in 1877, which remains Scotland's worst mining disaster, with 207 miners killed in a firedamp explosion.
The Cameronians (Scottish Rifles):
Redisplayed in 2012, this modern gallery tells the story of the Lanarkshire regiment, raised in Douglas in 1689 by James, Earl of Angus. Its initial recruits were Covenanters, making it the only British Army regiment with a religious origin. As Scotland's only rifle regiment, it disbanded in 1968 rather than merge and lose its unique identity.