Mobile library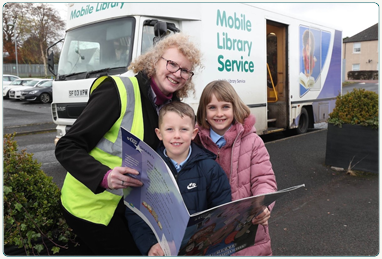 Mobile libraries provide books and information to communities that do not have a public library. The collections on the vehicles are constantly updated and provide a choice of leisure reading, listening and viewing for adults and children.
Membership is free and you can reserve any item in South Lanarkshire's online library catalogue. The mobile libraries are linked to the catalogue so staff can check if the books you want are available. They can also assist you with information requests through their links with enquiry teams at the main libraries.
Contacts for the Mobile Library service are as follows:
Walter Stewart on 01698 452202 / 07795 090 529
Julie Gardiner on 07795 090 526
Sites now will be visited fortnightly on the days and times listed below.
This table shows the mobile library timetable

| Settlement name | Halt name | Week day | Week 1 / 2 | Arrive | Depart |
| --- | --- | --- | --- | --- | --- |
| Abington | Village car park | Wednesday | 2 | 11.20am | 11.45am |
| Ashgill | Graham Place | Friday | 2 | 9.30am | 9.40am |
| Auchenheath | at Lancaster Road | Friday | 2 | 12.00pm | 12.20pm |
| Auldton | Carlisle Road | Monday | 2 | 6.50pm | 7.00pm |
| Braehead | Cockridge Road | Friday | 1 | 9.15am | 9.30am |
| Braehead | Main Street | Friday | 1 | 9.40am | 10.00am |
| Braidwood | Loch Avenue | Tuesday | 1 | 4.55pm | 5.10am |
| Caldermill | Glasgow Road | Tuesday | 1 | 2.35pm | 2.45pm |
| Carnwath | Couthally Terrace | Tuesday | 1 | 6.35pm | 7.00pm |
| Carstairs Junction | Park Avenue | Wednesday | 1 | 10.20am | 10.40am |
| Carstairs Village | Green Avenue | Wednesday | 1 | 10.45am | 11.00am |
| Chapelton Village | Main Street / Village Shop | Monday | 2 | 1.30pm | 2.00pm |
| Cleghorn | Cleghorn Terrace | Tuesday | 1 | 5.55pm | 6.10pm |
| Coalburn | Swimming Pool | Monday | 2 | 5.10pm | 5.40pm |
| Coalburn | Dunn Crescent | Monday | 2 | 5.40pm | 5.50pm |
| Coalburn | Coalburn Road | Monday | 2 | 5.55pm | 6.10pm |
| Coalburn | Bellefield | Monday | 2 | 6.15pm | 6.25pm |
| Coalburn | Birkhill House | Monday | 2 | 6.30pm | 6.45pm |
| Coulter | Park Avenue | Monday | 1 | 3.25pm | 3.40pm |
| Covington | Covington Road | Monday | 1 | 1.55pm | 2.10pm |
| Crawford | Watling Street | Wednesday | 2 | 11.50am | 12.05pm |
| Crawford | Village Car Park | Wednesday | 2 | 12.10pm | 12.25pm |
| Crawford | Merlindale | Wednesday | 2 | 12.30pm | 12.45pm |
| Crawfordjohn | Village Hall | Wednesday | 2 | 10.00am | 10.30am |
| Crossford | Darkbrig Road | Wednesday | 1 | 2.45pm | 3.05pm |
| Crossford | Dewar Walk | Wednesday | 1 | 3.10pm | 3.40pm |
| Crossford | Carfin Drive | Wednesday | 1 | 3.45pm | 4.00pm |
| Dalserf | Kirk Road | Wednesday | 1 | 2.10pm | 2.30pm |
| Dolphinton | The Village | Friday | 1 | 12.25pm | 12.35pm |
| Douglas | Main Street | Tuesday | 2 | 3.25pm | 3.55pm |
| Douglas | Hill Street | Tuesday | 2 | 4.55pm | 5.25pm |
| Douglas | Welldale Street | Tuesday | 2 | 5.35pm | 6.50pm |
| Douglas Water | MacAuslan Terrace | Friday | 2 | 2.15pm | 2.35pm |
| Dungavel | Hamilton Drive | Tuesday | 1 | 1.45pm | 2.00pm |
| Elsrickle | Carnwath Road | Friday | 1 | 1.00pm | 1.15pm |
| Elvanfoot | At the phone box | Wednesday | 2 | 3.25pm | 3.35pm |
| Gilmourton | Village | Tuesday | 1 | 2.10pm | 2.25pm |
| Glassford Village | Kirkstyle Place | Monday | 2 | 2.15pm | 2.35pm |
| Glassford Village | Millar Street | Monday | 2 | 2.40pm | 3.00pm |
| Glespin | Village Hall | Tuesday | 2 | 2.45pm | 3.00pm |
| Glespin | Bus stop | Tuesday | 2 | 3.00pm | 3.10pm |
| Kirkmuirhill | Park Street | Friday | 2 | 11.05am | 11.50am |
| Law Village | Station Road | Friday | 1 | 3.00pm | 3.40pm |
| Law Village | Murray Road | Friday | 1 | 3.45pm | 4.15pm |
| Leadhills | Main Street | Wednesday | 2 | 2.15pm | 3.15pm |
| Nemphlar | At Hall Road | Tuesday | 1 | 5.25pm | 5.40pm |
| Netherburn | Broomfield Road | Friday | 2 | 9.55am | 10.10am |
| Netherburn | Annabella Road | Friday | 2 | 10.15am | 10.30am |
| New Trows | New Trows Road | Monday | 2 | 4.10pm | 4.30pm |
| Newbigging | Beside old stone Mercat Cross | Friday | 1 | 11.30am | 11.45am |
| Newmains Farm | Ayr Road | Tuesday | 2 | 2.15pm | 2.30pm |
| Pettinain | Cairngryffe Street | Monday | 1 | 1.35pm | 1.45pm |
| Pettinain | Raeburn Common | Monday | 1 | 1.15pm | 1.30pm |
| Quarter | Limekilnburn Road | Tuesday | 1 | 3.15pm | 3.45pm |
| Quothquan | Shieldhill Road | Monday | 1 | 2.30pm | 2.45pm |
| Rigside | Birnie Knowe | Friday | 2 | 2.45pm | 4.00pm |
| Roberton | Howgate Road | Wednesday | 2 | 10.45am | 11.10am |
| Sandford Village | Stonehouse Road | Monday | 2 | 3.10pm | 3.30pm |
| Symington | Millburn Court | Monday | 1 | 3.55pm | 4.05pm |
| Symington | Village Green | Monday | 1 | 4.10pm | 4.40pm |
| Symington | Carding Street | Monday | 1 | 5.30pm | 5.40pm |
| Tarbrax | Village Green | Friday | 1 | 10.40am | 11.15am |
| Thankerton | Millands Road | Monday | 1 | 5.55pm | 6.20pm |
| Thankerton | Station Road | Monday | 1 | 6.25pm | 6.45pm |
| Tillietudlem | Fence Terrace | Friday | 2 | 12.30pm | 12.45pm |
| Uddington | Ayr Road | Tuesday | 2 | 1.50pm | 2.05pm |
| Watermeetings | Incorporating Daer Hall | Wednesday | 2 | 3.45pm | 4.00pm |
| Weston | Bee Farm | Friday | 1 | 11.55am | 12.10pm |
| Wolfclyde | Cormiston Road | Monday | 1 | 3.00pm | 3.15pm |
This table shows the 2021-2022 mobile library Week 1 / 2 timetable

| Month | Week 1 commencing | Week 2 commencing |
| --- | --- | --- |
| April | 12, 26 | 5, 19 |
| May | 10, 24 | 3, 17, 31 |
| June | 7, 21 | 14, 28 |
| July | 5, 19 | 12, 26 |
| August | 2, 16, 30 | 9, 23 |
| September | 13, 27 | 6, 20 |
| October | 11, 25 | 4, 18 |
| November | 8, 22 | 1, 15, 29 |
| December | 6, 20 | 13, 27 |
| January | 3, 17, 31 | 10, 24 |
| February | 14, 28 | 7, 21 |
| March | 14, 28 | 7, 21 |
Share this page