10th Duke of Hamilton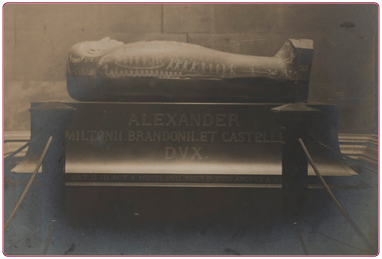 ---
Alexander, 10th Duke of Hamilton (1767-1852)
Alexander, 10th Duke of Hamilton, was responsible for building Hamilton Mausoleum. He also massively enlarged Hamilton Palace, turning it into the largest non-royal residence in Britain, and clearly earned his nickname,
'El Magnifico'.
He was a great art collector, and filled the Palace with collections of international importance.
As a young man, Alexander spent some years on the Continent studying the arts and this was a passion which stayed with him throughout his life.
Before Alexander even succeeded to the dukedom, he was Lord Lieutenant of Lanarkshire, Colonel of the Militia, and MP for Lancaster.
He was later appointed Ambassador to Russia, and, following this, travelled extensively in Russia and Poland.
On succeeding to the dukedom at the age of 51, Alexander immediately began work on the rebuilding of the Palace, including a massive new north front.
His mausoleum was incomplete at the time of his death in 1852, but, nevertheless, his body was embalmed and placed within an Egyptian sarcophagus in the unfinished chapel.