History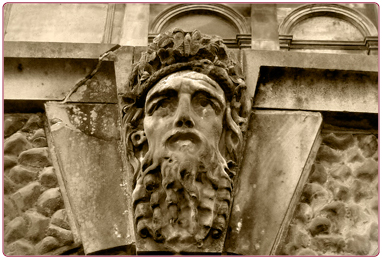 ---
Hamilton Mausoleum was once described as the '...most costly and magnificent temple for the reception of the dead in the world - except for the Pyramids'.
Standing at 36 metres high, its scale hints at the lost landscape and grandeur of the Hamilton Estate.
The Mausoleum was built by Alexander, 10th Duke of Hamilton, nicknamed 'El Magnifico', in the 1840s and 1850s.
The interior is richly decorated, with a mosaic floor of marble from around the world. The bronze doors to the chapel are cast from the famous Baptistery Doors in Florence, masterpieces of the Italian Renaissance.
The massive dome produces a spectacular 15 second echo, which made the interior unsuitable for its original purpose as a chapel.
Duke Alexander was very proud of his family line, which could be traced back six hundred years and was descended from royalty. He had firm ideas about the grand tomb which he wanted to build for himself, his ancestors and other members of the family. It took around 15 years and four architects before Alexander achieved his desire.
Work started around 1845 on the foundations and crypt, designed by David Hamilton, the leading Glasgow architect, who had previously worked on Hamilton Palace.
In 1848, the Duke appointed the distinguished Edinburgh architect, David Bryce, to continue the design but a small surviving sketch by the Duke himself reveals how much he influenced the final design.
Alexander Handyside Ritchie created beautiful stone sculptures to decorate the building. The most famous of these are the two massive lions guarding the entrance to the crypt.
In 1852, the Duke moved the bodies of his ancestors from the ruins of the old Collegiate Church close by the Palace into the Mausoleum crypt.
Alexander himself died later that year and was laid to rest in an Egyptian sarcophagus lying on a black marble plinth in the chapel.
By the 1920s, there were fears that mining subsidence would damage the Mausoleum. As a result, the bodies of Alexander and his ancestors were removed and reburied in Bent Cemetery in Hamilton.