Tours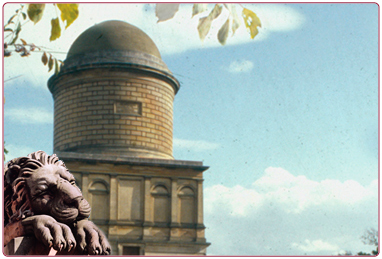 ---
The Mausoleum is Hamilton's most striking historic landmark. Book one of our tours and discover how breath-taking it is, with its massive domed interior, magnificent bronze doors, marble floors, and eerily atmospheric crypt – to say nothing of the world-famous echo!
Tours are available on the second and fourth Saturday of each month from February to November and must be booked at least two days in advance. Tickets cost £5.35 and £4.00 (concessions), available from Low Parks Museum reception and are valid for the booked date only.
Special tours can be arranged outwith the scheduled dates during February and November, for groups with a minimum of 10 people, depending on staff availability.
Our Tour Lunch package is a soup and sandwich deal, which will be served prior to your tour in our café. Tickets are £10.70 and £8.00 (concessions). Please present your ticket in the Mezzanine Café for your lunch.
Please note that Hamilton Mausoleum is unsuitable for people with walking difficulties and there is no wheelchair access. We advise visitors to wear warm clothing and sturdy footwear.
Please contact: lowparksmuseum@southlanarkshireleisure.co.uk or call 01698 452382 to arrange a tour.
Share this page