Tours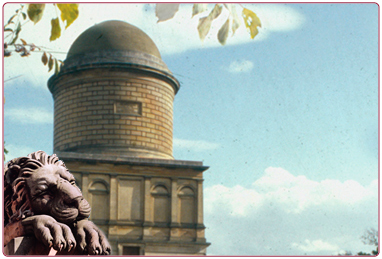 ---
Hamilton Mausoleum is the town's most striking historic landmark. This fascinating monument was built by Alexander, 10th Duke of Hamilton, as his final resting place. The building is impressive, book one of our tours and you will see just how breath-taking it is, with its massive dome, magnificent bronze doors, marble floors, and eerily atmospheric crypt – to say nothing of the world-famous echo!
We are pleased to announce that following extensive restoration and repair work, tours of Hamilton Mausoleum will resume at 2:00pm on Sunday 19 June.
Tours are available on the first and third Sunday of each month with the final tour of the season on 6 November 2022.
Tours must be booked at least two days in advance.
Tickets for the tour cost £5.00 and £3.50 (concessions), available from Low Parks Museum reception.
New for 2022, we are introducing our Lunch package which includes our soup and sandwich deal (which will be served prior to your tour) in our café and a tour of Hamilton Mausoleum. Tickets are £10.00 and £8.50 (concessions) and are available from Low Parks Museum reception. Please present your ticket in the Mezzanine Café for your lunch. Please note the Mezzanine Café opens at 12:00 noon. Tickets, valid for the tour day only, are available from Low Parks Museum reception.
Please note that Hamilton Mausoleum is not wheelchair accessible and is unsuitable for people with walking difficulties. We advise visitors to wear warm clothing and sturdy footwear when visiting.
Visits to Hamilton Mausoleum can be arranged out with the programmed tours for groups with a minimum of 10 people.
Please contact: lowparksmuseum@southlanarkshireleisure.co.uk or call 01698 452382 to arrange a tour.
Share this page