Contact details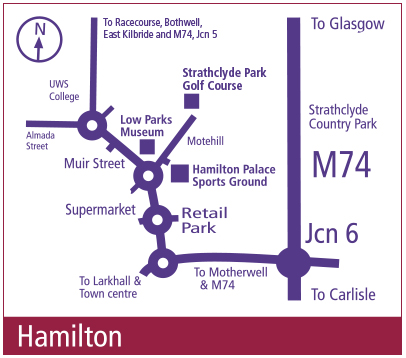 Low Parks Museum
129 Muir Street
Hamilton, ML3 6BJ
Tel: 01698 452382
Email: lowparksmuseum@
southlanarkshireleisure.co.uk
Head of facility
Laura Cleland, Recreation Manager
Email: laura.cleland@southlanarkshireleisure.co.uk
Museum opening hours
Monday to Saturday 10:00am - 5:00pm
Sunday 12:00pm - 5:00pm
Cafe opening hours
Monday to Friday 10:00am - 3:00pm
Saturday 10:00am - 3:30pm
Sunday 12:00pm - 4:00pm
Hot food and sandwiches served until 30 minutes before closing time.
Where we are
Hamilton Central Rail Station and Bus Station. Exit onto Brandon Street, cross over to Leechlee Road, walk downhill, at bottom of road turn left then right along Church Street to Muir Street. There is a pedestrian crossing at the museum. Walking: 14 mins, Cycling: 3 mins or can be reached using National Cycle Route 74.
Nearest M74 exit is Junction 6.
Mausoleum
Tours are available on the first and third Sunday of each month from February to November at 12:00pm and 2:00pm. Tours must be booked at least two days in advance. Call Low Parks Museum on 01698 452382.
Disabled access
All areas of the Museum are accessible and user friendly. Assistance dogs are welcome. Please note that Hamilton Mausoleum is not wheelchair accessible and is unsuitable for people with walking difficulties.