Courses and classes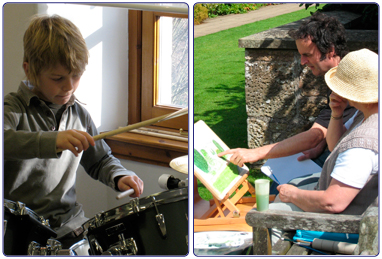 We run the core programme of arts courses for children, young people and adults in South Lanarkshire. This includes classes in Visual Arts, Crafts and Design, Ceramics and Musical Instrument tuition at key cultural venues.
Our wide ranging programme is designed to accommodate all needs, ages and abilities. Courses mostly run in four terms, commencing August, October, January and April. However at East Kilbride Arts Centre course terms commence in August, January and April.
ACE / Tiny ACE membership allows children under 16 years to access arts and sport courses and classes.
Full details of our adult courses and classes are available in the arts development brochure.
The Arts Development Officer also develops bespoke workshops, master classes, summer schools and specialist CPD courses. Examples include provision for charities working with vulnerable teenagers or specialist CPD provision for Secondary Art and Design teachers.
How to Book
Download the PDF version of the arts development brochure
Select the centre you want to book in to
Select the course or session you want to participate in
Telephone the centre to book a place
Alternatively, you can visit the centre and book at Reception.
For further information on the Arts Development classes and courses please contact:
Classes and courses
Tel: 01698 452 299
Email: artsdevelopment@southlanarkshireleisure.co.uk
Share this page