Internet and computers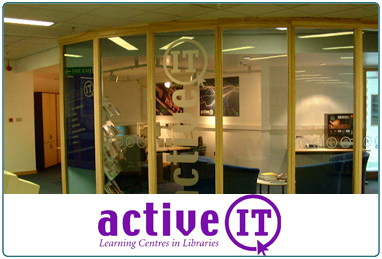 What's activeIT?
ActiveIT is the name to rely on for secure, one-stop access to the Internet across South Lanarkshire – and it's completely FREE!
In our activeIT centres, you can surf the Web and use a desktop computer free of charge, or unlock your creativity using a range of scanners and printers, for which there's only a small charge.
Sounds good, where can I find an activeIT centre?
You'll find an activeIT centre in every South Lanarkshire library, so if you don't have a computer in your home, or it's in for repair, or you just want somewhere quiet to study, surf, learn, create or research, activeIT is the place for you.
What if I don't need a computer, just access to the Internet?
In our libraries you can also log on to our Wi-Fi network and enjoy the benefits of activeIT on your own device, phone, laptop or tablet.
What can I do in an activeIT centre?
You'll find all sorts of useful applications in activeIT, such as Word and Excel and a range of exclusive online resources, such as training packages, Driving Theory Test Pro and Ancestry.com. Or, if you just want to have fun, take a look at our range of e-books and e-magazines. It's limited only by your own imagination!
Filtering and Unfiltering a webpage
If you are trying to access a website and you are being blocked, then you can request that the webpage or site is unblocked. Alternatively, you may see a website that you think should be blocked.
For either situation, you will need to complete the Request to have a URL filtered/ unfiltered form.
Wow! Do I need to book?
No, but you may want to at busy times. It's easy - you can book a 2-hr session in an activeIT centre up to a week in advance, either in person, by phone or 24/7 or online. If you're not a library member, you can join on the spot, subject to evidence of identity – ask for details.
Share this page