Fernhill Community Centre venue hire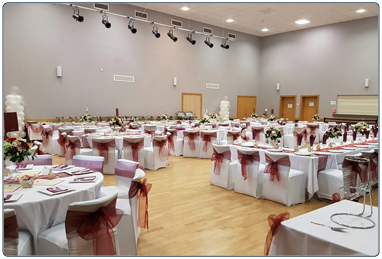 South Lanarkshire Leisure and Culture offer a large number of community facilities and venues for hire. These range from one room facilities through to our selection of large prestige community venues.
The facilities can be used for a variety of community, social and commercial activities. These include art or sport classes, meetings, parties, discos or wedding receptions.
To enquire about a booking, please call the applicable number from our Book Now information.
Information for this venue is in the table below:
This table contains information on the facilities and capacity of the rooms and halls at Fernhill Community Centre.
Room
Capacity
Size (sq m)
Board
room
Seated
Cabaret
Theatre
Standing Perform-
ance
Standing
Main Hall
265
150
200
Lesser Hall
79
70
Committee Room 1
51
50
Committee Room 2
51
Committee Room 3
56
Youth Room
69
Stage:
Cafe:
Catering facilities:
Yes
Bar facilities:
Yes
Liquor/Entertainment licence:
Civil/Marriage licence:
Events Co-ordinator:
Technical set-up / equipment hire:
Access:
Disabled parking (4 spaces), level entrance access, accessible toilet.
Share this page