Weddings at Low Parks Museum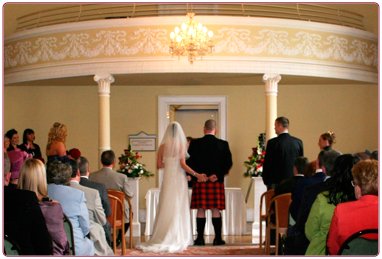 ---
Providing a beautiful and romantic setting for your wedding day, the historic Assembly Room at Low Parks Museum is the ideal town centre location for your special day.
The Assembly Room dates from 1784 and survives complete with its beautiful plasterwork and unusual musicians' gallery. This room housed all the important social occasions in the town.
The Assembly Room is now available between January and mid-November for civil, religious and humanist wedding ceremonies, and civil partnership ceremonies.
The main feature of the room is the stunning musicians' gallery, which captures the mood of the period, making it the perfect venue in which to exchange your vows.
Our professional staff will be pleased to assist in arranging everything from toast drinks to a celebration lunch, buffet or dinner.
The room has a capacity of up to 80 guests for the wedding ceremony.
For further details on weddings at Low Park Museum, please view our Weddings of Distinction homepage.