Glasgow lighting project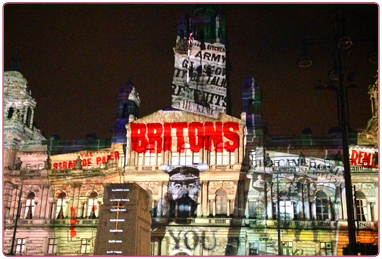 The Museum Service was proud to be involved in a spectacular lighting project to commemorate the 100th anniversary of the start of the First World War. Using photographs, film, and archival material from a variety of sources, Glasgow's wartime story was projected onto the iconic City Chambers at George Square on November 11th 2014, accompanied by music, sound and readings of contemporary accounts of Glaswegians at war.
The project explored the contribution of Glaswegians to the war effort, both at home and abroad, and the impact the War had on the city and its citizens.
The Cameronians (Scottish Rifles) had strong ties to the City of Glasgow; in 1914, the 1st Battalion were stationed in Glasgow's Maryhill Barracks. Three territorial battalions of The Cameronians were based in Glasgow, and recruited almost exclusively from the city.
Extensive material from The Cameronians regimental collection, held by South Lanarkshire's Museums Services, was used by artists to create the sound and light show. Much of the material used from South Lanarkshire's museum collection had been made available through a variety of in-house digitisation and transcription projects that have brought to light some of the treasures we hold.
You can watch the recorded show on the STV Glasgow website: https://www.firstworldwarglasgow.co.uk/index.aspx?articleid=14345
Share this page