Military Badges and Insignia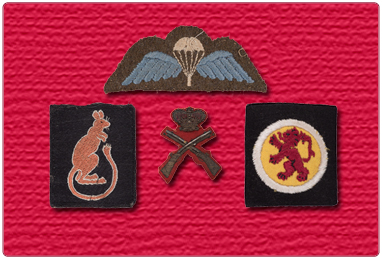 In 2015, the Museum Service was successful in acquiring funding from Museums Galleries Scotland to help digitise part of the military uniform collection. In the first phase of digitisation, the focus was on photographing the smaller items of military uniform, many of which are from The Cameronians (Scottish Rifles) collection. A selection of military badges were digitised through this project. These include formation patches, proficiency badges and rank insignia.
Formation patches were worn on the shoulder or upper arm, identifying soldiers belonging to different divisions within the army. The patches include a Second World War 'Desert Rats' patch and a 15th (Scottish Infantry Division) badge. The 9th and 10th Battalions of The Cameronians S.R. served with the 15th Division during the Second World War.
The proficiency badges include a Sergeant Instructor of Musketry badge and a British Armed Forces qualified parachutist badge.
To view more objects like these, please visit the museum 'Online Collection'. To find out more about this project please click here.