'The Oaks'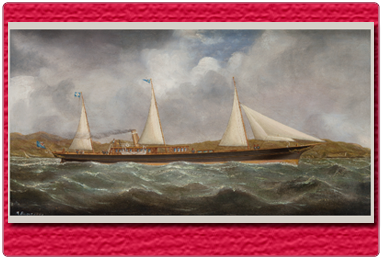 Thomas Bollen Seath was born in 1820 and as a young man followed his father into the coastal shipping trade, there to impress the owners with his honesty and aptitude.
It soon became clear to the young Seath that being his own master was the way forward and he started building ships on a small scale at Meadowside in Partick. He soon moved to what became the famous Seath's boatyard at Rutherglen, cleverly placed on a bend in the Clyde, which allowed longer vessels to be launched along rather than across the river.
Seath was known for building passenger vessels of such good design that several were sold to places as diverse as Lake Windermere, Ireland and Russia. The quality of Seath's vessels, such as steam yachts and launches, was so valued that the company could hardly keep pace with demand and the yard built over 300 boats and ships.
After the building of a tidal wear at Glasgow Green in 1901, to stabilise the banks upstream, access was cut off to the sea and Seath's yard was no longer viable and Thomas became more of a shipbuilding consultant rather than a builder himself.
This small oil painting, by an unknown artist, shows T B Seath's private yacht 'The Oaks' under sail and steam at sea; 3-masted with long deck cabin, clipper bow, lifeboat, single funnel; low hills in background.
Seath is seen standing at bottom of ladder.
It was shown in 'Rutherglonians' Exhibition 1923.