Glencairn Cup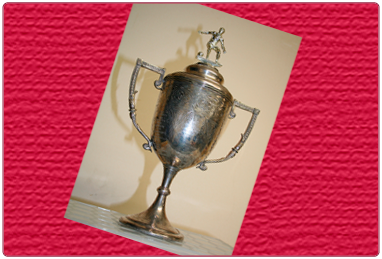 Rutherglen Glencairn Football Club played their first game on 15th Aug 1896, winning 1-0 against Ibrox XI.
From that time on "The Glens" became a well-respected name in Scottish football, helping to hone the skills of many footballers of the future.
Around 1910 competitive schools matches began and the Givens family donated this cup as the competition trophy. Later it was gifted to Rutherglen Town Council for use in their Inter-Schools football competition when it was renamed the Rutherglen Burgh Cup. Records show the competition ceased in 1978.
In 2018 the inter-schools football competition was re-established, renamed The Bobby Murdoch Primary Schools Memorial Cup in honour of the former Lisbon Lions and Glen's player. Open to schools in Rutherglen and Cambuslang, the inaugural competition celebrated the life of the local football legend, almost two decades after his death. Among the teams taking part in the inaugural competition were St Columbkille's Primary School, where Bobby himself first lifted the Burgh cup with his schoolmates in 1953. The 2018 champions were the team from St Charles' Primary School.
The cup itself is plate silver, the footballer finial being a much later addition. This historic trophy reminds us of the importance of nurturing sporting skill, in addition to celebrating the significance and legacy of the Royal Burgh's sporting alumni.