F H Godfrey Boxing Trophy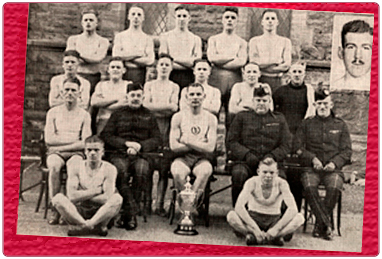 Boxing Trophy 2008.11.1 and The Trophy
The inscription on the cup reads:
BORDON GARRISON 1935, INDIVIDUAL BOXING, LIGHT WEIGHT, WINNER, CPL/ F. H. GODFREY.
This handsome trophy was made in England and was won by Corporal Godfrey in 1935. His family kept it until gifting it to the museum in 2008
The Winner:
Frank Henry Godfrey enlisted in The Cameronians (Scottish Rifles) in Hamilton on 14 February 1931.
It was in boxing that Frankie Godfrey excelled. In 1935 his opponents in team and individual events included Glasgow 'Varsity (University), Royal Naval Volunteer Reserve (RNVR) Northants Regiment and The KOSB. He fought in the army championships. He was a light weight boxer. That means that he weighed up to 135 pounds (60.7 kilograms).
Frankie left the Regiment for civilian life in May 1958 as Regimental Sergeant Major - the most senior non-commissioned officer.
The Place:
Bordon was the British Army's training centre near Aldershot in Hampshire. The Cameronians were housed in Quebec Barracks where the original huts from 1901-1902 had been replaced by brick barracks just before the Battalion's arrival in October 1935.
Image file:
Cam boxing team 1933.TIF
Image caption:
Frankie Godfrey (front row, far left) with the Regimental boxing team, 1933
Photo The Covenanter South Lanarkshire Council collection.