Souvenir Glass, Empire Exhibition, Glasgow, 1938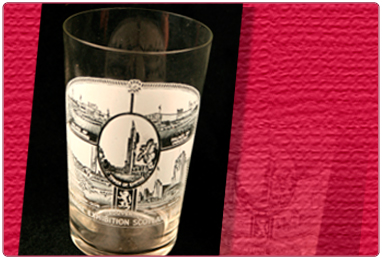 Our collection includes souvenirs of the Empire Exhibition, which was held in Bellahouston Park in Glasgow in 1938. This exhibition ran from May to October of that year and attracted twelve and a half million visitors during this time. The aim of the Empire Exhibition was to promote trade, industry and tourism in Scotland. The 1938 exhibition was the second Empire Exhibition to be held in the United Kingdom, the other being held in Wembley, London in 1924.
The principal architect of the exhibition was Thomas Tait, a Paisley born man, whose vision for the look of the exhibition was a sleek, geometric, Modernist design. The United Kingdom (and indeed the world) had been experiencing an economic depression since 1929 and Modernist design enabled costs to remain low and buildings to be erected quickly due to their simplicity. The 1938 exhibition was also a good opportunity for Scotland to boost its economy in these difficult times.
Due to the number of buildings or pavilions to be designed and built within a short period of time, Tait employed a group of Scottish architects to deliver his vision. Each building showcased something different, from the numerous industries Glasgow had to offer plus representations of the various countries of the British Empire at that time. There was also a concert hall, restaurants and an amusement park and the pavilions were set amongst landscaped gardens.
This souvenir glass shows a few of the one hundred buildings which were erected for the exhibition. The centre piece of the exhibition was the eye catching Tower of Empire or 'Tait Tower' which was named after the principal architect, Thomas Tait. It was intended that the tower and two other buildings would remain after the exhibition closed. Today, only one original building remains in Bellahouston Park - The Palace of Art, which is now used as a sports facility. Another building, the Palace of Engineering, was removed after the exhibition closure in October and was reconstructed at Prestwick in Ayrshire.