Boer War Field Medical Equipment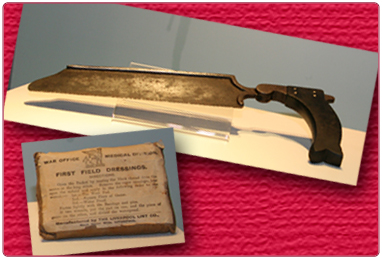 This rather crude looking saw was used during the Second Boer War from 1899-1902 to amputate the arms of soldiers injured in action.
It was owned by Second Lieutenant Reginald Glossop who served with the 4th Militia Battalion of The Cameronians (Scottish Rifles). The Militia was a local defence force set up to provide home defence in the event of an emergency.
Medical treatment during the Boer War had improved greatly from the last large British military campaign, fought in the Crimea in 1854, which had highlighted huge inadequacies in the care of wounded soldiers. Most regiments had their own medical officer who would deal with minor injuries, whilst soldiers with more serious injuries would be sent to a field hospital. However when caught up in battle such as at Spion Kop it was often difficult and dangerous to move wounded soldiers, it was then that basic medical equipment such as this saw would be used although fortunately morphine would be used to help with the pain!
For the first time all soldiers were also issued with a field dressing in their equipment pack like the one displayed here. This helped to save the lives of many soldiers and prevented infections from setting in.
Reginald Glossop went on to lead a very interesting life and amongst other things he invented the Glossop bomb; worked as a war artist; travelled around the world on a lecturing tour and passed through the Tokyo Jiu Jitsu School.
This object will be on display alongside lots of other fascinating objects in the Cameronian exhibition area, opening in April 2012 and funded by The Regimental Trustees and Museums Galleries Scotland.