Willow Pattern Ashet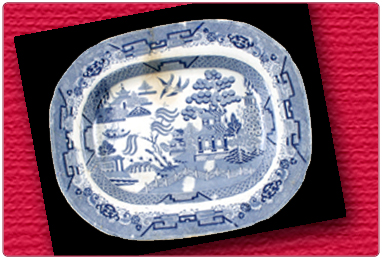 Where did the Willow Pattern come from?
Willow pattern was copied from Chinese blue and white porcelain imported into Britain in the second half of the 1700s.
Since then Willow pattern has rarely been out of production in the UK.
Where was this plate made?
The plate was made between 1833 and 1841 by Lancefield of Verrefield & Co of Finnieston at that time a village outside Glasgow.
From our brief description in our collections database:
"The Verreville Pottery began life as a glassworks in 1777 in the village of Finnieston, then just outside Glasgow on the north bank of the River Clyde. A pottery was added to the site by John Geddes in 1802, who began to export to Ireland and North America. The Pottery made transfer printed porcelain and earthenware, with some hand-painted and sponge decorated ware. Its range was extended when Robert Kidston became the manager, but after financial difficulties and a further change of management, reverted to producing only white and coloured earthenwares. Items may be marked with John Geddes, JG, Verreville Pottery and Glass Company, M with a 'warranted' mark, RAK, RAK & Co., R.C. & Co., R.Cochran & Co. or R.C. & Co. V.P."
Where can I get a willow pattern plate?
You can buy a smaller example in our gift shop at Low Parks Museum.
Willow pattern Ashet (large plate) RG.1978.479