Straight Razor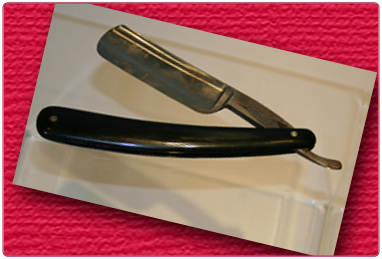 On show in Low Parks Museum as Object of the Month for March is a straight razor dating back to the early 1900s.
One hundred years ago the majority of men would shave their beards with a straight razor, also known as a 'cut-throat razor'. Straight razors were expensive to buy and required a great deal of skill to use so many men were shaved by their barber.
Straight razor shaving went into decline with the introduction of the safety razor. Safety razors were cheaper to buy and much easier to use, allowing more men to shave themselves at home rather than visit the barber.
The majority of men today use disposable cartridge razors or electric razors, although straight razor shaving has a rise in popularity. Some barbers still offer straight razor shaves to their customers.