Medical Equipment and Surgical Instruments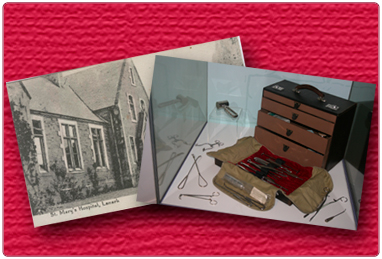 A collection of medical equipment was donated to the museum in March of 2002, following the closure of St Mary's Hospital, Lanark.
The Sisters of Charity of St Vincent de Paul ran the hospital, providing almost 130 years of care and service to the community.
The selection of instruments is a fascinating collection, representing hundreds, perhaps even thousands, of procedures undertaken at the hospital.
Some examples would be used in orthopaedic surgery, the branch of medicine which deals with the prevention or correction of disorders of the skeleton and related muscles, joints, and ligaments. You can clearly see the dents on the striking plates of the mallet, made during surgical procedures.