Holiday Souvenirs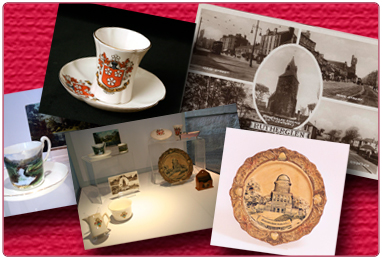 What kind of souvenirs do you like to bring home from your holidays?
The collection includes a selection of souvenir items from South Lanarkshire, dating from the late 1800s to the early 1900s, from various locations including Hamilton, Rutherglen, Stonehouse, Bothwell and Strathaven.
From decorative objects like miniature cups and saucers to practical items like a needle case or paperweight, each item would have been bought as a reminder of where someone had visited. Some of these places, like Hamilton Palace and Castlemilk House, no longer exist but many remain popular with tourists today.
Wooden items with photographic transfers are known as 'Mauchline Ware', after the Ayrshire town which produced a huge variety of these small objects for the tourist trade in towns across the UK.
Although we might think of souvenirs today as being cheap and throwaway items, many of these items have been created with skill and treated with care to last for decades.
2010.356 Glass paperweight of Hamilton Palace
2011.47 Miniature Teacup and Saucer - 'Linthaugh & The Avon, Stonehouse'
2011.158 Mauchline Ware needle book with image of Bothwell Bridge
JHM:1993:17+18 Milk jug and sugar bowl with Strathaven coat of arms
RG.1986.58.b Postcard of Rutherglen - Old Steeple, Main Street at Cross, Main Street looking east, Stonelaw Woods and Victoria Road, Burnside
RG.1990.7.p Postcard of Castlemilk House, Rutherglen. Sent 1917
RG.1992.3 Ceramic boat 'Rutherglen'
80.592/2 Plaque with raised image of Hamilton Mausoleum
80.670 Miniature Mauchline Ware letter rack with image of Cadzow Street, Hamilton
80.1352 Miniature Teacup and saucer with Hamilton town crest