South Lanarkshire Cooperatives Objects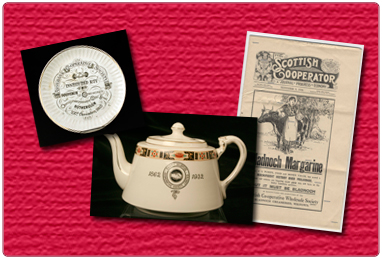 2012 was the United Nations (UN) International Year of Cooperatives.
"Cooperatives are a reminder to the international community that it is possible to pursue both economic viability and social responsibility."
United Nations Secretary-General Ban Ki-moon 2011. "Co-operatives are businesses owned and run by and for their members. Whether the members are the customers, employees or residents they have an equal say in what the business does and a share in the profits."
The cooperative movement has grown from a small shop in Lancashire in 1844 to a world-wide movement.
In 1844 Rochdale Pioneers Society opened their shop near Manchester with a capital of £28, starting a period of startling co-operative growth.
Just 4 years later a coop shop opened near Rutherglen Cross.
Hamilton Cooperative Society opened at 31 Chapel Street in 1861 and was one of many cooperative shops in South Lanarkshire. Between 1907 and 1914, when a new Ford car cost £190, the Hamilton Coop baking society had a bakery, shop and dining rooms in Union and Quarry Streets, Hamilton.
The objects on display illustrate the impact of the Cooperative movement in South Lanarkshire. These are:
A distinctive commemorative teapot to celebrate 70 years of the East Kilbride Co-Operative Society Limited (1862-1932) , made by Gibson's pottery, Staffordshire.
An unusual design of plate was produced for the Avonbank Co-operative Society to commemorate the opening of their Chapel Street, Rutherglen premises, in December 1905. The plate is made by J & M P Bell of Glasgow.
More than 100 years ago the Co-op in Scotland produced a newspaper for its members. The Scottish Co-Operator - A Journal of Progress and Economy. Number 890 Volume XXIII 5 November 1915 runs to 28 pages and was printed by the Scottish Co-operative Wholesale Society Limited, Shieldhall, Glasgow. This war-time issue features an advertisement for margarine on the front cover.