Japanese Pottery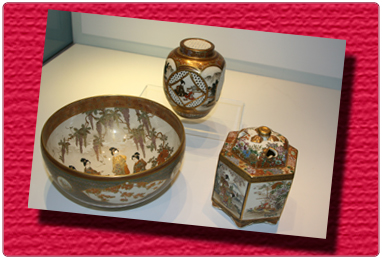 These 3 items of Japanese pottery are from the Joseph Turner collection which forms part of the Burnbrae Bequest. This was a bequest made by Joseph Turner to the John Hastie Museum in Strathaven in the 1920's in memory of his mother who lived at Burnbrae Farm near Strathaven.
Oriental pottery was very fashionable in the late 1800's and early 1900's and these pieces known as "Satsuma Ware" were produced in Japan for export to the Western market. Satsuma Ware is a creamy coloured earthenware pottery that was usually decorated with Japanese figures or oriental landscapes, the glaze has a crackled appearance. Satsuma ware dates back to the 16th Century when the Shimazu Prince of the Satsuma region of Japan kidnapped skilled Korean potters in order to establish a local pottery industry.
Joseph Turner began working as a cashier at J & M P Bell & Co. Ltd, a pottery company in Glasgow in the 1870's. He took over as manager of the business in 1910 until he retired in 1928. The company were well known for their transfer printed dinnerware and tea sets, newlyweds would usually visit their showroom to pick out their wedding china. Joseph was also an avid collector of contemporary decorative pottery and porcelain made by British, European and Oriental companies, some of this collection forms part of this "Burnbrae Bequest" now part of the museum collection of South Lanarkshire Council.