Ladies' Companion Sets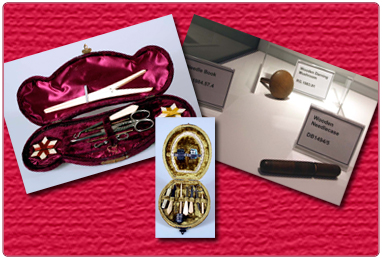 For centuries people have mended and re-mended their clothing. The phrase 'Make Do and Mend' was popular during the Second World War, when people were encouraged to repair their belongings instead of buying anything new during times of rationing. This contrasts greatly with today's society, where clothing is bought cheaply and disposed of when damaged.
This display includes items used for mending. The two boxes are known as Ladies' Companion Sets and include implements for sewing and manicures as well as tools to help a lady dress herself, such as button hooks for shoes and gloves.
The two wooden items with domed tops are darning mushrooms. The toe or heel of a sock would be stretched over the dome to make it easier to darn (sew the hole up). Also displayed are a fabric 'book' and a cylindrical wooden case for storing needles.