Royal Doulton Doris Keane Figurine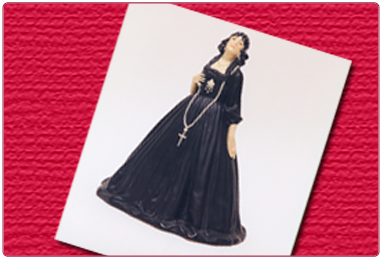 This beautiful Royal Doulton figurine shows the American actress Doris Keane, in her role as Margherita Cavallini in the 1913 stage play, "Romance".
Issued between 1918 and 1936, this is one of two examples depicting the actress, designed by Charles John Noke.
Through her performance in "Romance" Doris Keane shot to stardom. Opening in 1913, the New York show ran for 160 performances and the London tour ran to 1,049 shows. Such was the success of the play, a silent film was made in 1920, again starring Doris Keane.
The story was a simple one: A famous opera star gives up her young clergyman lover rather than ruin his career.
In 1930 the film was remade with sound and starred Greta Garbo as Margherita Cavallini.
Not only did C.J. Noke succeed in displaying incredible skill as a modeller, he is also credited with the creation of the highly recognisable Doulton style "Rouge Flambé "
Our Object of the Month display changes at the start of each month. This object is currently on display at Low Parks Museum but will be displayed over the coming months in Hamilton Town House Library, Rutherglen Library and Lanark Library before it returns into the care of our Collections Team