WW1 Trench Periscope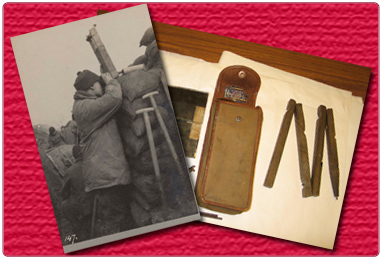 The periscope was used in trench warfare in WW1 to allow a soldier to see over the top of his trench without showing himself to the enemy. Hidden enemy snipers shot at anyone who moved in the trenches facing him.
The periscope worked using two mirrors at 45 degrees to each other to reflect a view down a barrel or tube to the user who was safely out of sight of snipers.
This example was very basic and the fragile mirrors were exposed on an open framework. This model was called a 'Trenchoscope' and was made by Adams and Company of Charing Cross Road, London. It was sold by J. Lizar, optician, Glasgow.
When not in use the periscope was packed away in its canvas pouch. A leather loop allowed the trench periscope to join the other gear (known as a 'Christmas Tree') that an officer in the front line carried on his waist belt.