WW2 Women's Volunteer Service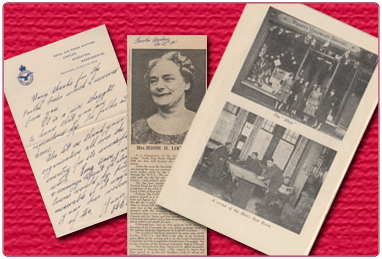 'War had been declared. There was a call to action stations. Where was women's place? We didn't wonder long…'
The Women's Volunteer Service were a crucial element in the fight to keep life in Britain as normal as possible during the Second World War. Throughout the country, thousands of women signed up to help with any task that was considered necessary, for no reward other than the satisfaction of helping in the war effort.
Mrs Lochhead, the organiser of the W.V.S in Hamilton and donor of these items, ran the headquarters from the 85 Cadzow Street premises in Hamilton town centre. Their duties covered a broad spectrum: sending postal orders of 5 shillings (25p) every Christmas to Hamilton serviceman stationed worldwide, organising shelters for evacuees after the Clydebank and Greenock blitz, and providing much needed clothes, food and money to servicemen and the loved ones they left behind.
Included in the display are three letters from servicemen thanking the W.V.S for their gifts, photographs of servicemen at the HQ and an article recounting Mrs Lochhead's work.