WW2 Special Service Commemorative Badge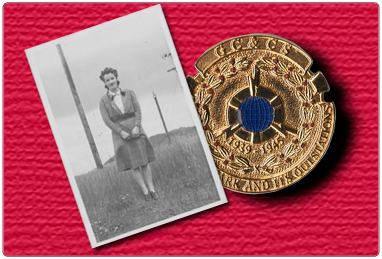 A commemorative badge awarded for special service during the Second World War was given to Janet Lang Johnston, from Hamilton. Janet was one of thousands who had been involved in top-secret intelligence gathering and code-breaking, but whose vital part in helping win the War had largely been unrecognised due to the secret nature of their work. Those involved in such work were sworn to secrecy and were unable to tell their families anything about what they did.
Today, Bletchley Park is well known for the work performed there in cracking the German 'Enigma' code. Important work was carried out at numerous other sites across the country, including Harklaw Listening Station near Cupar, Fife, where Janet was at one time employed.
In July 2009 this commemorative badge was issued to those who had been involved in secret work at Bletchley Park and its outstations during the Second World War.