D S Robertson Shield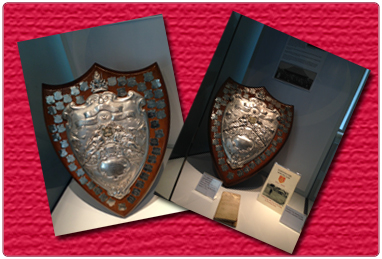 This impressive looking shield is known as the D.S. Robertson shield and was played for by the members of Rutherglen Public Bowling Green Club, now known as Overtoun Park Bowling Club.
It was presented to the club in 1913 by David Stewart Robertson, who was a chemist in Rutherglen, and his wife. It was to "encourage the game of Bowls among their fellow townsmen and women". Part of the original minute of agreement when he presented it was that the shield was to reside in Rutherglen Public Library or Museum when not being played for. It appears that after the shield was handed over to the library in 1957 it became forgotten about until it was re-discovered in the mid 1980's, it was then returned to the club where it was won for the first time by a woman in 1986.
In the mid 1990's the bowling clubhouse was destroyed by a fire and the shield once again stopped being played for.
The club celebrated its 100th birthday in 2012, as part of their celebrations the D.S. Robertson shield competition was reinstated for one year only.
The shield is inscribed with the names of all the previous winners, interestingly it was even played for during the years of the First and Second World Wars when many sports stopped as men were called up to fight. Perhaps the men named on the shield were in a reserved occupation or were too old to go off to war?
Alongside the shield is the original minute of agreement from 1914 and the Overtoun Bowling Club centenary booklet.