Table Top Cream Maker (1930s)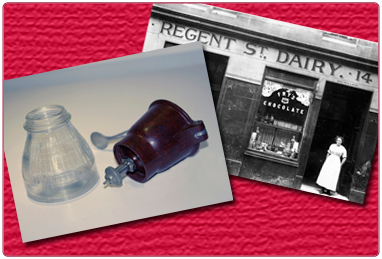 This patented Bel Jubilee Cream Maker was first made in England in the 1930s for use in the home. It allowed owners to make their own fresh cream from butter and milk immediately before it was used in baking or adding to desserts at the table.
Without modern fridges it was easier to keep small quantities of butter and milk fresh in the home than large amounts of prepared cream.
Cleanliness was vital in using the machine and the maker's instructions emphasised this both before and after use.
To make cream, this kitchen appliance was put together with the cast aluminium handle and piston screwed on to the glass jar. Add unsalted butter and full cream milk to the upper red Bakelite (an early form of plastic) bowl and work the handle until the cream begins to collect in the lower glass container.
This model was used in a house in Silvertonhill, Hamilton.