Medals Collection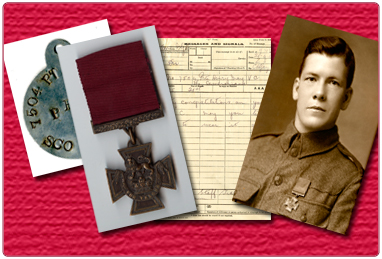 As the 100th anniversary of the First Word War passed, we wondered at the bravery of those who fought and died for our freedom.
Medals are awarded for service and bravery. Campaign medals are awarded for service in particular fields of battle while gallantry medals were awarded for specific acts of bravery and courageous behaviour.
Our most famous award for bravery is the Victoria Cross. We hold 7 Victoria Crosses within our collection and display them in Low Parks Museum, Hamilton with great pride. One Cameronian recipient of the Victoria Cross was Henry May. His bravery was detailed in the second supplement to the London Gazette of Friday 16th April 1915, published on Monday 19th April 1915:
"No. 7504 Private Henry May, 1st Battalion, The Cameronians (Scottish Rifles). For most conspicuous bravery near La Boutillerie, on 22nd October 1914, in voluntarily endeavouring to rescue, under very heavy fire, a wounded man, who was killed before he could save him, and subsequently, on the same day, in carrying a wounded officer a distance of 300 yards into safety whilst exposed to very severe fire."
The actions of Private Henry May or Harry, as he was known to his pals, were unbelievably brave and deserving of such a prestigious award. As the poem suggests, he was an unassuming and shy man who believed his bravery was little more than the duty of any soldier in the same circumstances. However, it took courage to face the enemy, bravery to fight and gallantry to endanger his own life in order to save his Lieutenant. In doing so, May saved a hugely influential soldier who rose through the ranks eventually becoming the Colonel of the Regiment, Major General D.A.H. Graham CB CBE DSO MC.
The collection of objects include the dog tags Pte May wore whilst in battle, a telegram sent congratulating him on the award of the VC and a framed poem written about him.
Not all soldiers received gallantry medals to mark their achievements and sadly, some acts of courage went unseen. In these cases no formal award or recognition for the act of bravery was received.
A century later we recognise that all who fought secured our freedom. They have our thanks and heartfelt appreciation for their individual acts of courage, everyday heroism and their contribution to our victory in the First World War.
We will remember them.