1st Larkhall 13th Lanarkshire Scout Troop Commemorative Plaque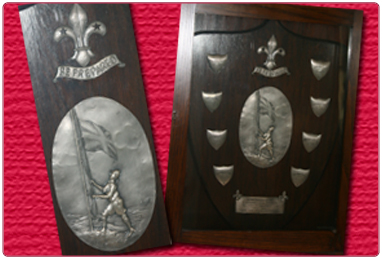 The 1st Larkhall 13th Lanarkshire Scout troop was one of the first scout troops to be formed after the founding of the boy scouts movement in 1908 by Lord Baden-Powell. His book "Scouting for Boys" published in the same year was a terrific hit with young boys prompting the establishment of scouting troops all over the country.
Although the boy scouts were too young to be involved in fighting at the front when war broke out in 1914 they were involved with many aspects of home defence. They were used to carry messages for the War Office, guarding railways and coastlines and in land work growing and harvesting vegetables.
Many young scouts did of course go on to serve during the war. The plaque on display commemorates eight men from the 1st Larkhall, 13th Lanarkshire Scout troop who were killed in the First World War. Their names are as follows:
Patrol Leader Robert Downs
Scout John Craig
Able Seaman John Bruce
Piper Charles Anderson
Able Seaman Robert Frame
Instructor Thomas Sands
Able Seaman Charles Brown Scout James Hutchens
Although the 1st Larkhall 13th Lanarkshire Scout troop no longer exists, scouting is still very popular amongst boys and girls in Lanarkshire.