John McAlpine Bronze Miniature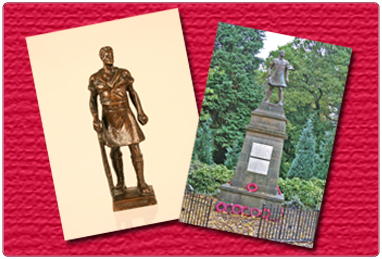 Bronze miniature statue
By Alexander Proudfoot RSA, 1922
This bronze statue is a miniature of that which sits on top of the war memorial in Cambuslang Park. The statue depicts the figure of John McAlpine, the first man from Cambuslang to be killed in the First World War.
Private McAlpine was a soldier in the 1st Battalion, The Black Watch regiment, and was killed on 11th November, 1914. Private McAlpine has no known grave, and is instead commemorated on the Memorial to the Missing at the Menin Gate in Ypres,Belgium. At the time of his death, John was 37 years old, married and father to six children.
After the First World War, communities often chose to recognise the sacrifice of their men and women who died in the conflict with a memorial. In Cambuslang, this takes the shape of a large, stone plinth, topped with the figure of a soldier. It was decided to base the figure on John McAlpine, in recognition of him being the town's first casualty. Both the miniature and full-size statue were modelled by Alexander Proudfoot, a graduate, and later lecturer, of the Glasgow School of Art.
The bronze miniature was acquired by South Lanarkshire Leisure and Culture Museum Service with the assistance of the National Fund for Acquisitions, Scotland.