Hot Water Bottle, Caledonian Pottery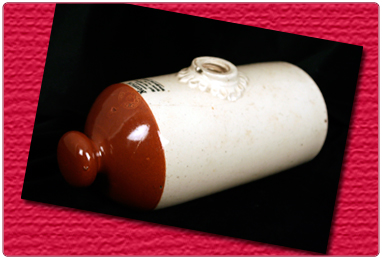 A sure sign of winter in days gone by, this ceramic bottle (or 'pig' meaning 'round pot') was filled with hot water.
This hot water bottle is for the feet. It has a flat base so that it can stand upright easily, either in a bed or on the floor of a coach or train carriage. Women would have been able to warm their feet well as their long skirts covered the bottle, forming a tent to trap the heat!
Although a Victorian object, they were in common use until the 1960s and 70s when central heating was introduced in homes.
The Caledonian Pottery was founded in 1800 in the north of Glasgow, making items ranging from porcelain and cream ware to stoneware and bricks. In 1872 the pottery moved to Rutherglen, it was later bought by the jam manufacturer W.P.Hartley to supply stoneware jam jars. When glass jars were introduced the pottery closed in 1928.