WW1 Boots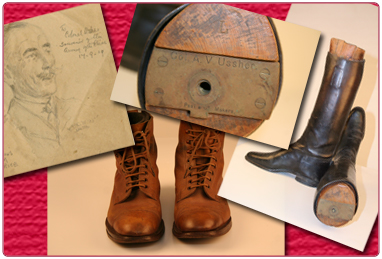 "New boots are not the best thing in which to do forced marches, as many a young fellow discovered to his sorrow"

History of the 5th Battalion
Can you imagine what life would have been like for a soldier in the trenches? The durability and comfort of his uniform was crucial. Its failure could affect their ability to fight, demoralising the troops who faced the tough circumstances of trench warfare.
"...a very trying march as the men's feet were sore on account of new boots only issued just before embarkation"

15th July 1915, Regimental War diary of the 10th Battalion, The Cameronians (Scottish Rifles)
Such was the concern over trench foot that troops underwent regular foot inspections. Often, soldiers were tasked with inspecting each others' feet and applying whale oil to prevent the condition taking hold.
The B2 design boot was issued to the troops in the First World War and was more commonly known as the Hob nail boot. The brown ankle boots displayed, which we believe were owned and worn by an officer, are not the standard issue B2 pattern. Made of brown leather, the B2 had robust leather soles which insulated and protected the wearer from the studs. In addition to providing increased grip, these make the boots hard wearing. The straps of fabric which you can see are wrapped around the leg, over the top of the boot, were called puttees.
The black leather boots on display belonged to an officer, identified by the inscription on the top of the boot-stretchers as Lieutenant Colonel A V Ussher.
He is mentioned in the introduction of the 10th Battalion history:
"...Old enough to have earned exemption from further service in the front line, he and hundreds of other Regular officers like him came back to the new Battalions of their old regiments, and shaped, and loved, and led them into battle. Lucky were the Battalions who were fathered by such men"

Lieutenant Colonel A V Ussher,