Jimmy Gibb Wood Carvings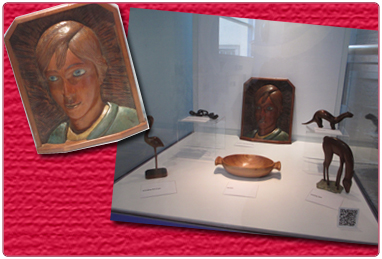 Jimmy Gibb lived at his childhood home at 52 Miller St, Hamilton until his death in 1980. With his brother, John he owned a joinery firm in Hamilton.
His main interests were outside his business and were deep and varied. He was what is called a "Renaissance man": that is, skilled and knowledgeable in both the arts and sciences.
During the Great War Jimmy and his brother, John operated an illegal radio ham station from their house in a secret room concealed behind a fitted bookcase. The brothers built a full-sized aircraft in the 1930s. Jimmy also collected, cut and polished semi-precious stones. He would carry a selection in his pocket and produce them during a conversation. He was a regular and welcome visitor to the museum.
He carved wood artistically and you can see some examples of his detailed and skilful work here.