Douglas Graham Moncrieff Wright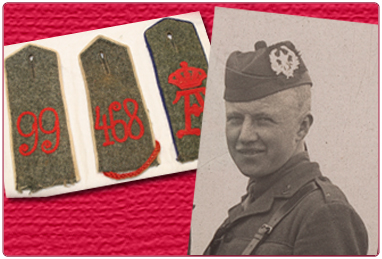 Lt. Col. Douglas Graham Moncrieff Wright sent home three German epaulettes as souvenirs. They are displayed with an envelope and letter to his parents dated 16th January 1918.
Epaulettes, cap badges and buttons could all identify a regiment. They were often taken from dead soldiers and prisoners as a means of gathering information on the enemy. One of the epaulettes embroidered with a red 'A' has been identified as belonging to a German soldier of the 117th Grand Ducal Hessian Life Infantry, "Grand Duchess Alice," 25th Division.
Douglas Graham Moncrieff Wright attended the Royal Military Academy at Sandhurst and graduated in 1913. He was gazetted to the 1st Battalion, The Cameronians (Scottish Rifles).
At the outbreak of the First World War, he was deployed to France. For his wartime service he was mentioned in dispatches twice and received the Military Cross for gallantry. After the war he served with the 2nd Battalion in India and retired in 1930 with the rank of Major. He returned to The Cameronians at the outbreak of the Second World War and retired in 1945. He died on 1st May 1983 at the age of 89.
For more information on the Cameronians and to read a blog on Lt. Col. Moncrieff Wright visit our website http://www.sllccameronians.co.uk/.