The Sailing of the Emigrant Ship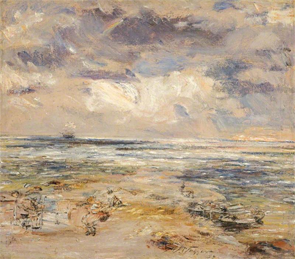 by William McTaggart 1895 (National Galleries of Scotland)
We are fortunate to have this very important painting on loan for the Visions for the Mind exhibition.
William McTaggart was born in Kintyre in 1835 and was the son of Dugald McTaggart, a smallholder and labourer. He lived with the sea a constant presence and few artists, before or since, have better captured its mood and movement
What we see in The Sailing of the Emigrant Ship is a later work which shows how far McTaggart had advanced Scottish painting and, it can be argued, European painting, by his impressionistic technique and his holistic vision of seascape.
This painting is one of several which introduces the subject of emigration, a very emotive and overpowering happening on the west coast in McTaggart's lifetime, of which he would have had first-hand knowledge. These 'emigrant' paintings are sometimes coupled with the series McTaggart painted of the arrival of St. Columba to the Scottish west coast. It shows his interest in the historical context and the monumental part the sea plays in Scottish history.
Looking carefully at McTaggart's painting we see a sailing ship leaving in the distance and figures left on the shore. Strangely, by 1880 it would have been unlikely that a sailing ship would have been used by this time, steamships were taking over. McTaggart was, therefore, putting the scene in a historic setting and not as a present day view.
Interestingly, McTaggart follows the compositional result which the 'Cadzow' artists such as Alexander Fraser, (see two paintings in this exhibition) endeavoured to achieve by ensuring that the landscape, or in this case the seascape, dominates the picture and any figures are subordinate. Perhaps the small ship in the distance takes a more prominent role, a detail but a definite present action.
McTaggart was criticised for not 'finishing' his figures and objects, such as boats drawn up onto the shore. I would argue he stresses these are part of the world of sea and sky and are like blowing sand or breaking waves… fleeting images in a timeless scene.
What do you think?
Share this page