Evening on the Shore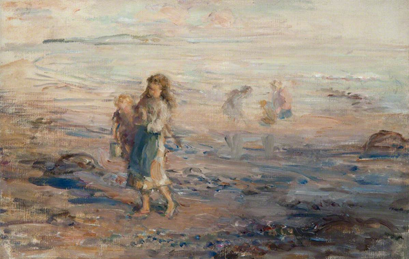 by Hugh Cameron (1835 – 1918)
During the Covid-19 lockdown, even if you have a garden and some space, wouldn't it be great to walk along the seashore one evening and enjoy the sea breezes and the sound of the waves lapping on the shore? You may have seen this painting hanging in last year's exhibition, Visions for the Mind, but let's have a closer look and just enjoy a lovely gentle scene.
Hugh Cameron was born in 1835 and died at the end of the first World War. You might remember me talking about George Leslie Hunter, one of the Scottish Colourists, and how he lived through a period of great change in how artists sought to express what they saw, moving from what we might call realism, or more accurately as specific copy of what was in front of them, to impressionism. Artists allowed their brushes freedom to express and resisted detail.
Hugh Cameron was one of a group of students who, over a period of about ten years, studied under an artist teacher Robert Scott Lauder. This group contained what became some very important Scottish artists, including William McTaggart, George Paul Chalmers and William Orchardson. These impressionable students were also under the spell of Pre-Raphaelite works, especially those of John Everett Millais, perhaps the artist from that particular group who began to use a freer style after around 1855.
Duncan McMillan, in his book Scottish Art 1460 – 1990 (Mainstream), suggests that the Scots of that time, under Lauder, perhaps had a greater training in how to provide unity in a scene and produce a warm unifying light.
Looking at our painting, Cameron has produced a shore scene with figures but, like William McTaggart's perhaps more famous works, forces us to view the scene as a whole. The girl with the small child and the others still paddling in the shallows, are as permanent as the rocks around them. As well as the obvious sketch like quality, this idea of unity within landscape or seascape, instead of highlighting subject matter, is a very important consideration when we look at the development of impressionism and beyond. Perhaps the reason I admire this painting so much is that it conjures up a dreamlike quality and encourages the mind to reflect on the experience of such an evening on the shore.
View Online Collection information on this painting:
Share this page