Mary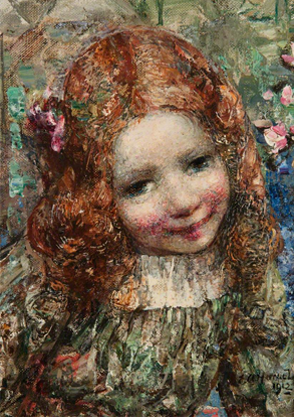 by E H Hornel (1907)
The painter Edward Atkinson Hornel (1864–1933) was born in Australia, but his family returned to their home town, Kirkcudbright, quite soon after he was born.
Hornel studied painting at the Trustees' Academy, Edinburgh, from 1880 to 1883, and then at Antwerp Academy. On his return in 1885, he began a productive friendship and collaboration with the Scottish artist, George Henry (1858–1943), one of the group of painters known as the Glasgow Boys. Although always regarded as an important member of this artistic group, Hornel remained out of the Glasgow world and enjoyed his time living in the small town where he grew up.
George Henry (more on him another time!) and Hornel visited Japan in 1883 and were greatly inspired by Japanese art. This was much evident in their future work. Japan had not long been freed from isolation, trade was thriving and with it came the exposure of Japanese art to an interested Western Europe.
Hornel used local Kirkcudbright girls as models around the time our small painting of 'Mary' was completed (1907), but began designing these portraits by initially using photographs. He did pose his subjects in a kind of formal pose, such as is seen in Japanese dance and these poses were characterised by twists and sinewy 'movement'. The colourful collage effect is certainly evocative of Japanese costume and the famous tree blossoms. Hornel is not painting a standard 'portrait' but more a work of decoration, the face of Mary is part of a decorative image.
View Online Collection information on this painting:
Share this page